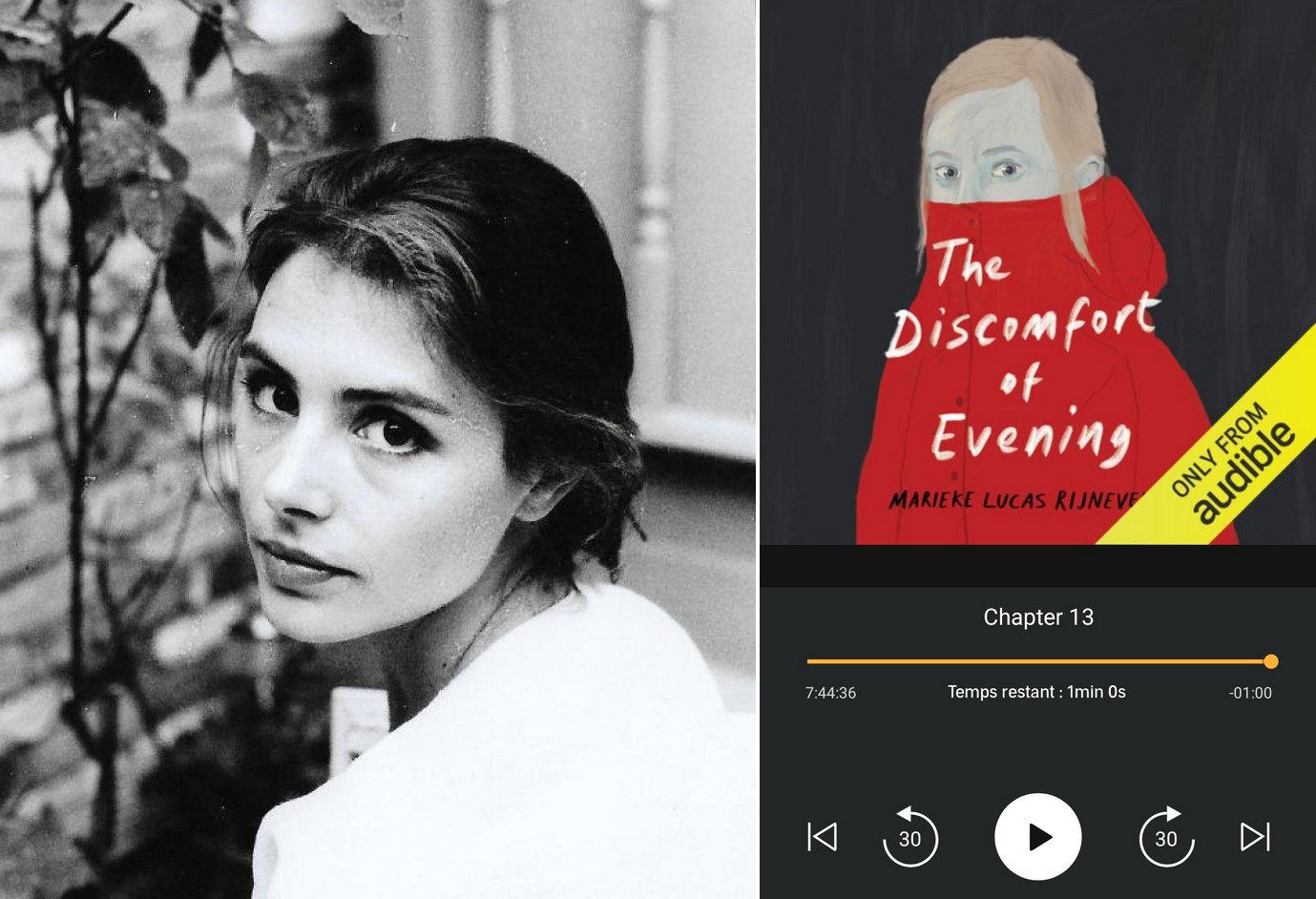 Lectures en anglais par l'actrice Genevieve Gaunt, disponibles sur Audible
'The supremely talented Genevieve Gaunt' - Radio Times
*
An Italian Girl in Brooklyn
Santa Montefiore
Lu par : Genevieve Gaunt
Durée : 10 h et 30 min
Version intégrale Livre audio
Date de publication : 07/07/2022
Langue : Anglais
Éditeur : Simon & Schuster Audio UK
"Dark secrets and hidden sorrows abound in Santa Montefiore's spellbinding new novel set in war-torn Italy and the streets of New York.
New York, 1979.
It is Thanksgiving and Evelina has her close family and beloved friends gathered around, her heart weighted with gratitude for what she has and regret for what she has given up. She has lived in America for over thirty years, but she is still Italian in her soul.
Northern Italy, 1934.
Evelina leads a sheltered life with her parents and siblings in a villa of fading grandeur. When her elder sister Benedetta marries a banker, to suit her father's wishes rather than her own, Evelina swears that she will never marry out of duty. She knows nothing of romantic love, but when she meets Ezra, son of the local dressmaker, her heart recognises it like an old friend.
Evelina wants these carefree days to last forever. She wants to bask in sunshine, beauty and love and pay no heed to the grey clouds gathering on the horizon. But nothing lasts forever.  The shadows of war are darkening over Europe and precious lives are under threat...."
©2022 Santa Montefiore (P)2022 Simon & Schuster, UK
*
The Kiss
Quick Reads 2022
Santa Montefiore
Lu par : Genevieve Gaunt
Durée : 2 h et 19 min
Version intégrale Livre audio
Date de publication : 26/05/2022
Langue : Anglais
Éditeur : Simon & Schuster Audio UK
"Sometimes your biggest mistake can also be a blessing....
Madison has always known she had a different father to her siblings. But it wasn't until she turned eighteen that she learned his name. And now she wants to meet the man who shares her fair hair and blue eyes.
Robert is a very lucky man. A big house, beautiful wife, three handsome sons. Eighteen years ago, he made a mistake. A brief fling that resulted in a daughter nobody else knows about.
Robert must finally tell his family the truth. Will they ever be able to forgive him and accept Madison as one of their own?"
©2022 Santa Montefiore (P)2022 Simon & Schuster, UK
*
The Distant Shores
Santa Montefiore
Lu par : Genevieve Gaunt
Série : The Deverill Chronicles, Volume 5
Durée : 13 h et 26 min
Version intégrale Livre audio
Date de publication : 08/07/2021
Langue : Anglais
Éditeur : Simon & Schuster Audio UK
"The brand-new novel from the Sunday Times best-selling author.
Pure escapism at every moment, The Distant Shores tells the story of a family torn apart and the woman who will bring them back together.
Margot Hart travels to Ireland to write a biography of the famous Deverill family. She knows she must speak to the current Lord Deverill - JP - if she is to uncover the secrets of the past. A notorious recluse, JP won't be an easy man to crack. But Margot is determined - and she is not a woman who is easily put off.
What she never expected was to form a close bond with JP and be drawn into his family disputes. Shouldering the blame for running up debts that forced him to sell the family castle, JP is isolated and vulnerable. With help from his handsome son, Colm, it seems as though Margot might be the only one who can restore JP's fortunes.
Will the family ever succeed in healing rifts that have been centuries in the making?"
©2021 Santa Montefiore (P)2021 Simon & Schuster Audio
*
The Heights
Louise Candlish
Lu par : Genevieve Gaunt, Milo Twomey, Louise Candlish
Durée : 10 h et 48 min
Version intégrale Livre audio
Date de publication : 20/08/2021
Langue : Anglais
Éditeur : Simon & Schuster Audio UK
"There is nothing as powerful as a mother's love. But will Ellen's put her whole family in danger?
From the Sunday Times bestselling author of The Other Passenger and Our House–now a major ITV series–comes a nail-biting story about a mother's obsession with revenge.
Ellen Saint is just your average mum. Devoted to her family, she's no different from any other mother who wants the best for her kids. But when her teenage son Lucas brings a new friend home, cracks start to appear in Ellen's perfect family life.
Kieran Watts isn't like Lucas. He's rude, obnoxious and reckless, and Ellen can only watch in despair as her son falls deeper under his influence.
Then Ellen's whole world implodes and she embarks on an obsessive need to get revenge.
There is nothing you won't do for your children–even murder . . ."
©2021 Louise Candlish (P)2021 Simon & Schuster UK
*
Magma
A Novel
Thóra Hjörleifsdóttir, Meg Matich - translator
Lu par : Genevieve Gaunt
Durée : 2 h
Version intégrale Livre audio
Date de publication : 17/08/2021
Langue : Anglais
Éditeur : Tantor Audio
"Twenty-year-old Lilja is in love. As a young university student, she is quickly smitten with the intelligent, beautiful young man from school who quotes Derrida and reads Latin and cooks balanced vegetarian meals. Before she even realizes, she's moved in with him, living in his cramped apartment, surrounded by sour towels and flat Diet Cokes. As the newfound intimacy of sharing a shower and a bed fuels her desire to please her partner, his acts of nearly imperceptible abuse continue to mount undetected. Lilja desperately tries to be the perfect lover, attempting to meet his every need. But in order to do so, she gradually lets go of her boundaries and starts to lose her sense of self.
With astounding clarity and restraint, Hjörleifsdottir sheds light on the commonplace undercurrents of violence that so often go undetected in romantic relationships. She deftly illustrates the failings of psychiatric systems in recognizing symptoms of cruelty and in powerful, poetic prose depicts the unspooling of a tenderhearted woman desperate to love well.
Contains mature themes."
©2019 Thóra Hjörleifsdóttir; English translation copyright 2021 by Meg Matich (P)2021 Tantor
*
The Discomfort of Evening
Marieke Lucas Rijneveld
Lu par : Genevieve Gaunt
Durée : 7 h et 45 min
Version intégrale Livre audio
Date de publication : 10/08/2020
Langue : Anglais
Éditeur : Audible Studios
Winner of the International Booker Prize 2020
"I asked God if he please couldn't take my brother, Matthies, instead of my rabbit. 'Amen.'
Ten-year-old Jas has a unique way of experiencing her universe: the feeling of udder ointment on her skin as protection against harsh winters; the texture of green warts, like capers, on migrating toads; the sound of 'blush words' that aren't in the Bible. But when a tragic accident ruptures the family, her curiosity warps into a vortex of increasingly disturbing fantasies - unlocking a darkness that threatens to derail them all.
A best-selling sensation in the Netherlands, Marieke Lucas Rijneveld's radical debut novel is studded with images of wild, violent beauty: a world of language unlike any other, exquisitely captured in Michele Hutchison's translation."
©2018, 2020 Marieke Lucas Rijneveld, translated by Michele Hutchison (P)2020 Audible, Ltd
*
Genevieve Gaunt read English at Cambridge University where she graduated with a Double First.
Her podcast, The Cupid Couch, made the Radio Times '31 Best Podcasts of 2021'.
Michael Billington, The Guardian, Review of Monogamy, The Park Theatre:
'Genevieve Gaunt is very funny as the language-distorting PA'
The Times: Review of Ghosts of the Titanic:
'It's to the credit of an accomplished cast led by the charismatic Genevieve Gaunt'
The Stage: Review of Ghosts of the Titanic:
'The actors are all excellent, and luckily Genevieve Gaunt imbues a paper-thin character with far more humanity and nuance than the script offers.'
Everything Theatre: Review of Ghosts of the Titanic:
'The main character, Emma, is played impressively by Genevieve Gaunt. Her performance is highly moving; full of emotion, with convincing transitions from tears of sadness to real anger and desperation. We see so many different things in her character, each so carefully structured and crafted that it's almost impossible to tell what's real. Watching her acting, I felt not that I was part of her story as a spectator in the theatre, but in some unique world of memory.'
Radio Times, review of The Human Frontier audiodrama:
'The supremely talented Genevieve Gaunt'
*